All 120-volt portable air conditioners around 8,000 BTU or more will usually have a sticker on the side requiring it to be plugged into a single outlet (dedicated) circuit for safety reasons
The National Electrical Code requires that any appliance that is not fastened in place, such as a portable air conditioner, will be limited to 80% of the rating of a multiple outlet circuit to which it is connected.
The short answer is that you should not plug a portable air conditioner into a regular outlet, instead, you should plug it into a dedicated circuit.
While there can always be exceptions and creative ways to get around this rule, it's best to stick with the regulations.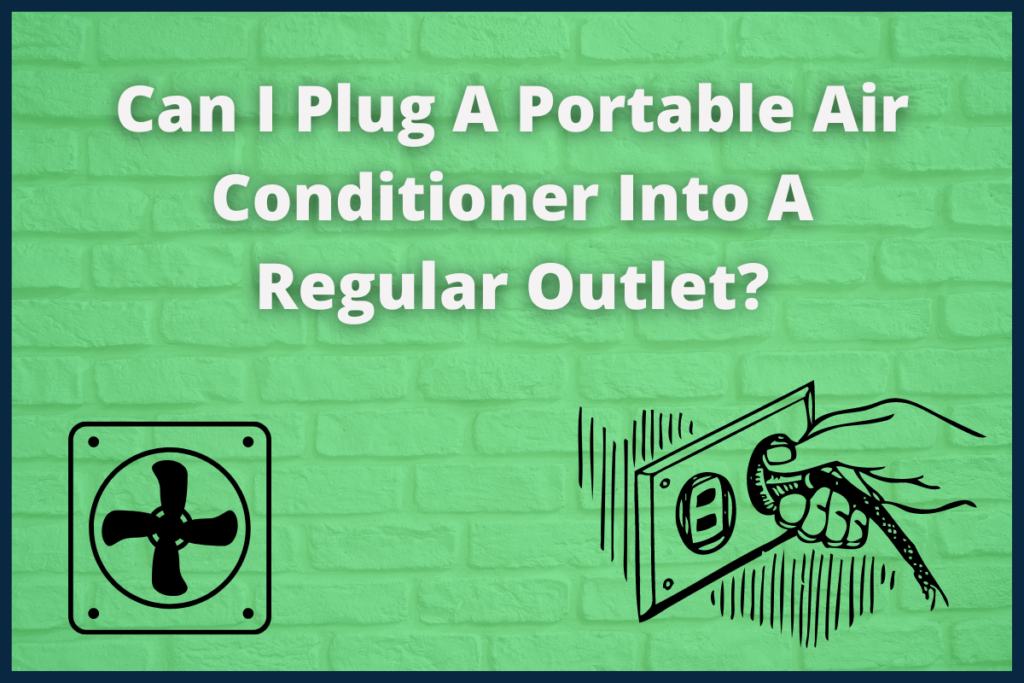 What is a dedicated circuit for an air conditioner?
A single circuit outlet is an outlet that is wired to the electric panel. This means that it does not connect to any other outlets or appliances using electricity. The purpose of this type of outlet is so that there will be, less current draw, and so you do not have breakers popping from overload, or starting fires because breakers are faulty.
How do you know if you have a dedicated circuit?
One way to find out if you have a dedicated circuit is to plug a lamp into each outlet and see which one goes out when you turn off the breaker. If only one lamp goes out, then that is your objective.
These are some of the factors you should consider when deciding whether a dedicated circuit is right for your specific circumstances
Air conditioner unit's size
The electrical demands of the air conditioner unit
The size of the room
The room contains other appliances as well.
Local building codes may apply.

The size and electrical requirements of a portable air conditioner are the most telling indicators of whether it will require a separate circuit. Larger air conditioners have larger capacity compressors that need more energy to run.
The majority of window air conditioner units are 110/120 volts. These air conditioners that need 7 or more amps to function will need their own circuits.
Smaller units that require fewer amps don't need their own circuits, but they're not as popular because they aren't very powerful.
It's easy to overlook how important the size of your room is in determining how much energy it takes to keep it cool. A larger space will need the air conditioner to do more work and consume more electricity, pumping fresh air into the area. While the measurement of a room is usually in square feet, factors like ceiling height and the size of your windows and doors may necessitate extra cooling capacity.
If you do not have a dedicated air conditioner circuit what should you do?
If you don't have a dedicated air conditioning circuit, a qualified electrician will need to install one for you. And if your air conditioner requires a specific type of wall outlet, an electrician can install it for you.
Do you got other appliances in the same room with the air conditioner?
If there are any other big appliances in the room, a dedicated circuit is required. A single air conditioner already consumes a significant amount of electricity, and adding another device to the circuit will most certainly overload it.
If you can be sure that the air conditioner will only ever share its circuit with something tiny, such as a desk lamp, it may not be necessary to install a special circuit if the AC is small enough.
However, this is an unusual situation since most of us have several devices in each room.
Computers, refrigerators, washing machines, and water heaters are all examples of appliances that must not share a circuit with your portable air conditioner.
What can go wrong if you plug in a portable AC in a regular outlet?
What if you plug in a portable AC into the wrong outlet?
You may experience Circuit Overload, Electrical Fires, or Cable Overuse.
Circuit overload when plugging in an AC to a regular outlet
The first thing to understand about a circuit is that it's a loop through which electrical current passes in order to power an electric device. Every item that connects to an outlet in your house needs a circuit.
Different circuits are built to produce different amounts of power. The circuits are made for the items that use them, like lights or computers.
If the devices plugged into a circuit need more electricity than the circuit can produce, then the circuit will break.
If the breaker for that circuit flips, then everything on that circuit will stop working.
Circuit overloads might cause the breaker to flip, but they do not always do so. More common signs of circuit overload include buzzing from electrical sockets and flickering lights.
A portable air conditioner unit is not good for a circuit that has many devices on it. There won't be enough power for the other devices on the circuit and it will be stuck in an overload cycle.
Electrical Fires because of a wrong circuit for AC's
If the wiring in a home is faulty, it can lead to more serious consequences. For example, if a breaker does not shut off the circuit like it is supposed to, the heat could cause damage. Excess heat from an overloaded circuit might melt wires and start fires. The insulation near the wiring might catch fire easily too.
Outlet covers might get too hot and stay hot. This is a safety hazard, and also they could start a fire.
Cable Overuse and Air conditioning Systems: The Problem of Most Homes
Some people try to use an extension cord rather than a dedicated circuit to connect their air conditioner. This is not a good option since many extension cords are not made for air conditioner units.
Conclusion
It can be tempting to plug your portable air conditioner into any outlet that is close by, but doing so can come with some safety hazards. A dedicated circuit will allow you to use more of the appliance's power without worrying about it overloading the circuit and causing a fire or other problems.
If you're not sure how many appliances are on one breaker in your home and can't figure it out by yourself, consult an electrician as they can help determine if a new circuit needs to be installed for your AC unit.
Having your electricity wired by regulations is a good way to avoid unforeseen trouble, and can save you from disaster in the long run.
If you can be sure that the air conditioner will only ever share its circuit with something tiny, such as a desk lamp, it may not be necessary to install a special circuit if the AC is small enough.
However, this is an unusual situation since most of us have several devices in each room.
Remember that you can always ask an electrician if you ain't sure about your home wiring.